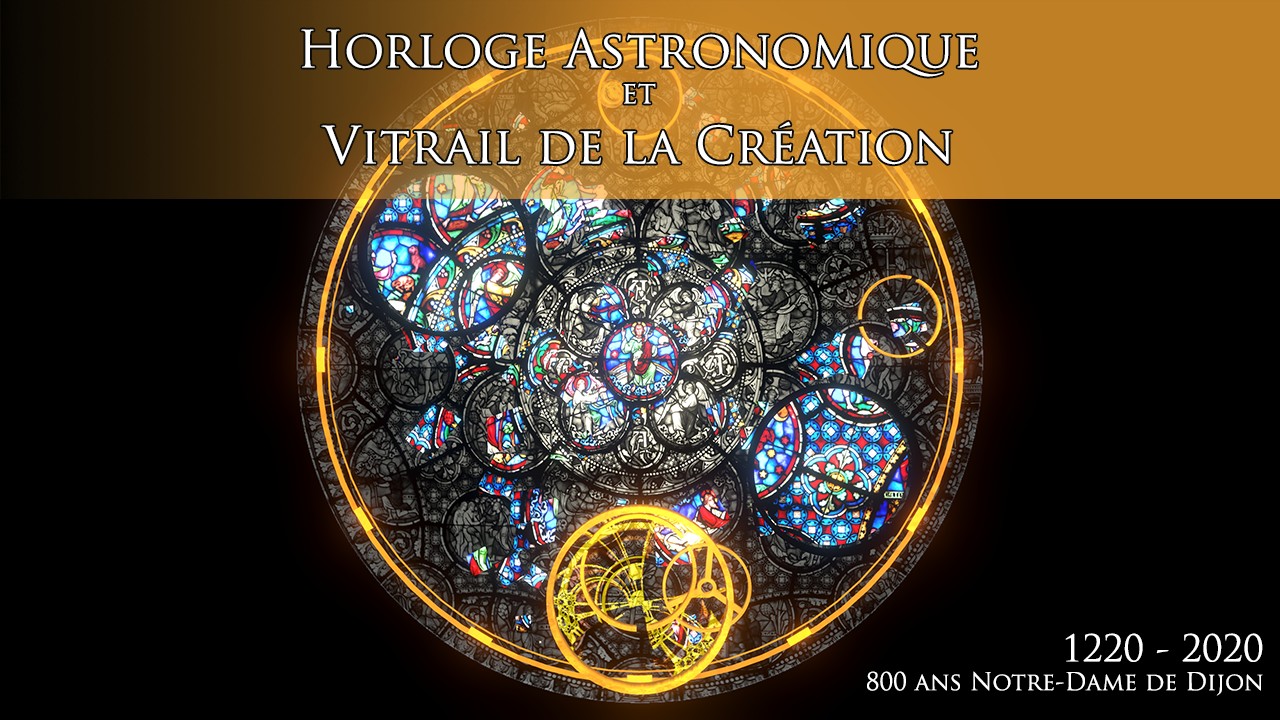 Astronomical Clock and Creation Stained Glass, in Dijon (France)
1220 – 2020: Notre-Dame de Dijon celebrates its 800 years
Digital and video artwork
from November 29, 2020 to January 15, 2021
On the occasion of the eighth centenary of the Church of Notre-Dame de Dijon, the artist Senarius presents an imaginary astronomical clock associated with the rose window of Creation, visible on the rose of the north transept.
The work thus perpetuates the tradition of astronomical clocks installed in churches since the Middle Ages. It also recalls the presence of the Jacquemart (clock and automaton dating from the 14th century) existing on the facade of Notre-Dame de Dijon.
Designed as a modern rereading, the Clock offers a vision combining mechanical precision and astronomy. Its golden mechanisms are punctuated by the periodic movement of a large circular pendulum encompassing the clock. Two rotating lenses make it possible to show details of the stained glass window of Creation, usually difficult to see. While facets, shards of stained glass animate the center as if they were perpetually floating in space.
Show event, each hour
Each hour, an event comes to animate the screening, like a show. The Clock then opens to reveal a short astronomical spectacle showing the position of the sun in the sky, corresponding to the time it is (such as at sunrise, at noon, or at sunset).
Each hour, a particular detail of the stained glass is also highlighted and enlarged.
Informations
Church Notre-Dame, Dijon
From November 29, 2020 to January 15, 2021
Every days, 8 am to 6 pm
Crédit photo : Église Notre Dame de Dijon rosace nord. Photo de la rosace de François de Dijon, Wikimedia Commons.