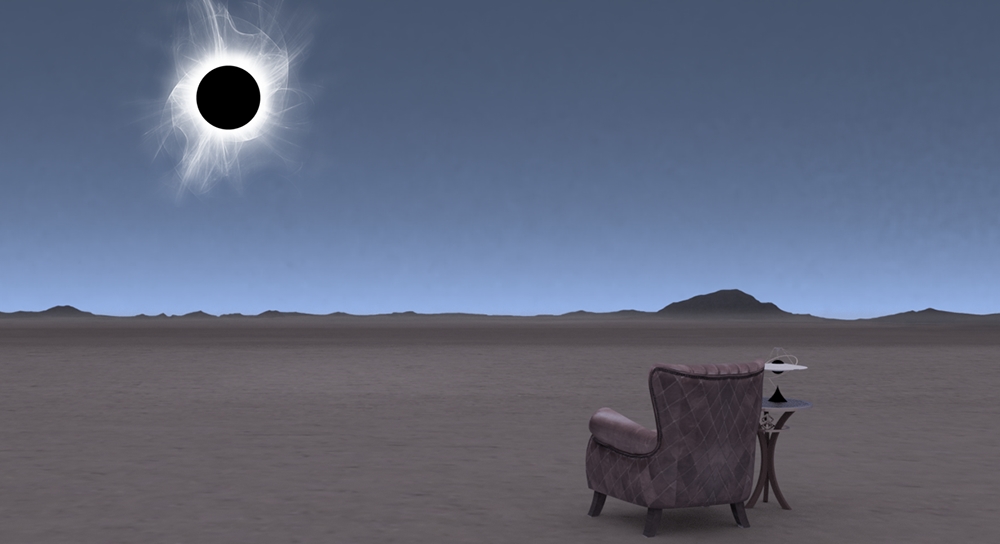 Senarius
Under the name of Senarius, Thomas Desbrières met on the stage an artist-inventor passionate about science and art.
For years, Senarius has been trying to show the extraordinary. His idea is to transform nature into extraordinary images and shows through invented machines.
In the manner of "special telescope", these instruments bring out new exceptional visions from this subject.
Transformation and Fractal Art paintings
Senarius realizes his paintings using new digital technologies and computers.
These are image treatments to transform them, and bring out some awesome new images. In the same way, the fractal technique makes it possible to create refined geometrical constructions, and a great wealth of details.
The Senarius Universe
An elsewhere out of time

The universe of Senarius proposes an elsewhere out of time.
Senarius lives in salons set in the vastness of desert landscapes, immersed in the unique light of a perpetual solar eclipse.
Imaginary scientific inventions

Senarius seeks to see the extraordinary through invented machine-sculptures, imaginary scientific instruments. He also tells of the artistic-scientific experiments carried out with his inventions. His paintings represent the images results of the experiments.
The great outdoors and astronomy
Fascinated by the open spaces, Senarius explores the immense deserts. It is inspired by the shows of nature, astronomy, and more particularly solar eclipses.
Ornaments worked and precious
His paintings also depict rich decorations and precious objects, reminiscent of silverware and jewelery.
They evoke intertwining, rich tapestries, or architectural details, often inspired by oriental art.
---
EXHIBITIONS
Previous personal exhibitions and events
-« Astronomical Clock and stained glass of Creation », video-projection for 800 years of Notre-Dame Church in Dijon, November 29, 2020 to January 15, 2021.
-« Mille Portes d'Or », video projection, Cellier de Clairvaux, Festival Nuits d'Orient, Dijon, December 5 to 8, 2019.
-« Ailleurs », video projection accompanying concert, vocals and piano, Magnin national Museum, Dijon, July 6th 2019.
-« Festival Nuits d'Orient », video projection accompanying concert, vocals and piano, Dijon, 1st and 2nd of December, 2018.
-« Le Chronoscope, Images du temps », CERN, Genève, September 24 to October 5, 2018.
-« Le Chronoscope, Images du temps », Ecole Polytechnique Lausanne, Lausanne, April 16 to June 15, 2018.
-« L'art des fractales », Bibliothèque universitaire Sciences, Dijon, November 9 to December 9, 2016.
-« Création numérique et art fractal », Nicéphore Cité, Chalon-sur-Saône, May 17 to July 14, 2016.